It's one thing to buy Christmas gifts for friends and loved ones.  It's another thing to buy those gifts and at the same time support a vital local organization.  And that's just what you can do this year with Hidden Villa's first online Holiday Auction.
A unique online charitable auction for Silicon Valley and beyond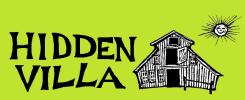 This Christmas, you can buy one-of-a-kind gifts and gifts the receivers may not think to buy for themselves.  Everything from $50 in tokens from Area 151 Arcade, with bidding starting at $20, to a round of golf for two at Stanford Golf Course. – a $240 value, with bidding starting at $80.
Other item categories include Spa & Beauty, Health & Fitness, Travel, Wine, Jewelry, Collectibles, For Your Pet, Food & Gourmet Items and many more.  It's hard to imagine doing some online shopping with Hidden Villa and not finding a number of great holiday gifts.
Tracking your bids is easy: after you've placed a bid, you'll be automatically notified by e-mail if someone has bid higher on that item.  You can then decide if you want to go back and out-bid the out-bidder.  But remember – unlike with traditional holiday shopping and auctions, the point here isn't just to get a good deal.  It's to help a worthy organization.
A gem in Los Altos Hills
Located across 160 lush acres in Los Altos Hills, Hidden Villa's mission is to inspire others through programs and events to learn more about our environment, organic farming and social justice.  It was founded in 1924 by Frank and Josephine Duveneck as a place for discussion and reflection on social reform issues.  The Pacific Coast's first hostel was established at Hidden Villa in 1937, as was the first multi-racial summer camp eight years later.
Hidden Villa became a nonprofit organization in 1960, with the establishment of The Trust for Hidden Villa.
The preserve welcomes 30,000 visitors a year to its formal programs.  Some 20,000 more arrive to explore and learn about the farm and gardens or enjoy a scenic adventure hiking on eight miles of trails.  You can find out more about Hidden Villa's public and school programs here.
So this holiday season, buy gifts the fun way – by staying at home and helping Hidden Villa carry on its mission of teaching about the environment by example.  And who knows, you might find the deal of the year among the many items up for bid.