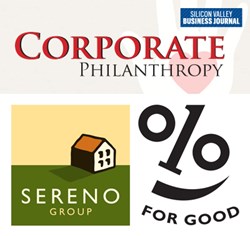 Every quarter, Sereno Group gives a percentage of its gross commissions to a worthy local organization through its 1% for Good program.  For the first quarter of 2014, our Los Altos agents are helping out with Sunnyvale Community Services' backpack program. Through March, one percent of our commissions will go to Sunnyvale Community Services to purchase backpacks for school children.  A nonprofit emergency assistance agency since 1970, Sunnyvale Community Services' mission is to prevent homelessness and hunger for low-income families and seniors facing temporary crises.
Sereno Group agents launched 1% for Good in mid-2012 as a way to demonstrate our core value of community first.  Since then, a number of nonprofit, community-minded organizations have benefited.  They include Grind for Hunger, CancerCare Point, Magical Bridge Project, Paralyzed Veterans, Saratoga Senior Center, Lacy of Santa Clara County and others.
A direct result of the 1% for Good movement was Sereno Group's recognition in 2012 by the Silicon Valley Business Journal as one of the top 50 philanthropic corporate organizations in Santa Clara County.  We were very proud to be listed in the journal along with other luminary Silicon Valley corporations such as The Sobrato Organization, Cisco Systems, Intel, Applied Materials and Oracle.
Recognitions are wonderful, but more important is the opportunity for our Los Altos-based Realtors to give back to the communities that mean so much to them and have in various ways blessed them.  We believe that regardless of a person's occupation or "standing" within the community, we are all important, and those who need assistance should be able to receive it.  One percent of home sales' commissions goes a long way toward meeting this ideal.
Our efforts along with those of other corporate givers resulted in $102.7 million for area nonprofits in 2012.  We don't have the 2013 figures yet, but we're sure they will surpass the previous year.  As for 2014, we'll just keep working away along with our generous partner organizations to help everyone in need enjoy a better quality of life.